Go Balanced or Don't Bother
If there's a TLDR post for this rather popular high end DAP, that will be as short as I can summarize it for those who are curious of this player.
Now who doesn't know Sony?
They're known for many things. Smartphones, headphones, in-ear monitors, wired and wireless speakers, WALKMANs, Playstation consoles, you name it.
Sony is a titan company that owns a lot of things and sometimes innovate a bit, while faceplants on other department (totally not referring to The Amazing Spider-Man movies), and thankfully their little innovation in introducing a new output in the world filled with 2.5mm Balanced Output paid off.
So...is bigger better?
Usability
So...what do you get for your MYR 11,999?
Well, for starters, the undeniably solid build for this piece of brick.
Seriously, the WM1Z has to be -- without a doubt -- the most confidently built player I've got my hands on so far, probably even better than SP1000 SS that I touched -- which has a sleeker design in my opinion. The chassis itself is made from oxygen-free high-purity copper for the purpose of higher conductivity rate than many players which normally use aluminium. The gold plated material also gave it not just a very premium, prestigious look, but also has a purpose of protecting its internals from outside environment.
The downside though -- is that this player is extremely heavy thanks to this.
Weighing in at a whopping 455 grams, this player is what some will dub a "
Golden Brick
", including myself. Not only does it feel like holding a shining piece of gold, but it looks like one too, which could...well, be both good and bad depending on how you see it. I know a few thieves will stare at it for a while before they attempt to steal, but that's assuming if they love listen to Beatles on lossless quality while robbing a bank...
Believe me when I say this -- in the bus or train, if you're holding this listening to music -- its natural gold-shine will inevitably draw some attention. So keep a close eye on it when you're using it outdoors.
The screen is 4 inches, same as the old Sony ZX2 DAP model, which I think is more than enough for a player like this -- and its user interface is very much as recognizable as many high-end Sony players. It's very easy to use and has minimal lag, which is always a plus for something this heftily priced.
It's touch-function is responsive enough and very much lag-free, though admittedly compared to SP1000, I find the experience on the SP1000 a touch smoother.
I will say however, that the boot-up time is a bit of an arse. It took nearly a minute for the player to load up before it finally allows me to play any music. Perhaps if there's a firmware update in future that will address this minor issue, this point will could easily be fixed.
Bear in mind though, that when you're using 3.5 and 4.4mm output, switching in between will yield different volume levels depending on how you last adjusted them accordingly (that includes the low or high gain output setting too), so be sure to check the volume twice before you play the music, otherwise you risk blasting your ears with sensitive IEMs placed on the balanced output, which tends to almost always be much louder.
I've learned my lesson the hard way...
The next thing is the impressive storage.
256GB of internal memory. This is pretty much going to cover most of your music library unless you have a massive gallery that you just have to bring everything. Which of course, a microSD card slot that supports up to 256GB as well, totaling 512GB. So chances are you'll probably never run out of space unless you managed to fill out a 1TB external hard-drive with no room to spare for music.
At least I don't think I've met anyone capable of doing that here yet...
Sound
It's a good sound.
Okay, the end.
Haha, big original joke, am I right?
Well, I'll be more elaborate then.
It's a very remarkable sound with natural presentation that has a little touch of warmth to its signature that is pleasant to listen to. It's revealing, enveloping and musical with plenty of transparency and resolution to boot.
Topped off with a great soundstage, the sound has a presentation of you being in a very nice and wide music hall booked only for you alone and no one else (especially if you're using CIEMs to listen to). It plays nice with just about any IEMs, whether being dynamic drivers, hybrids or just straight up BA-drivers.
But...there's a catch.
This impression can be said to its younger brother made in aluminium -- WM1A.
Why? Because of the 3.5mm output. Either the implementation is not up to par, or simply because it's nothing more than standard output found in much cheaper Sony players, but I cannot for the life of myself, tell the difference between WM1A or 1Z when I A/B them in between using same tracks connected through my CIEM on the unbalanced output.
I even took the liberty to ask the staffs in the dealer shop I demo regularly to do a blind test for me using same songs and volume output switching left and right and tell which is which. The results?

Out of 5 tries, I got all of them wrong even after numerous critical listening attempts.
Seriously, the unbalanced output is kind of disappointing even though there's clearly nothing wrong with the sound but the fact that you get almost identical sound signature from the much cheaper WM1A (priced at MYR4,999) is very hard to ignore.
But then came the surprise.
The 4.4mm Balanced Output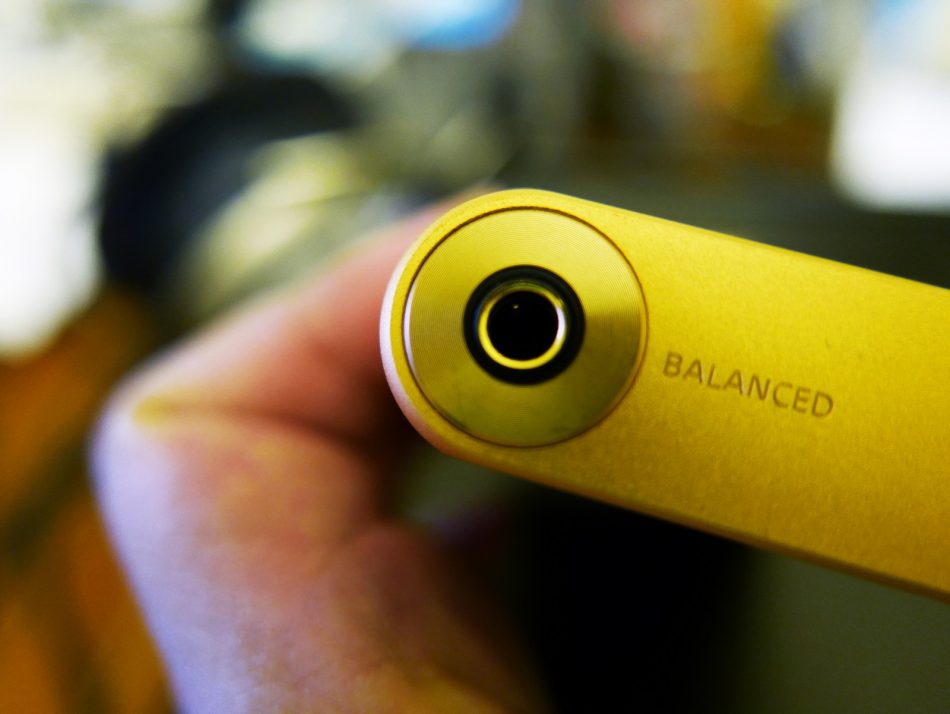 I used a 4.4mm adapter for my CIEM's run of the mill stock cable and plugged it to give the balanced output a try -- to find out if bigger really is better, as opposed to the 2.5mm balanced output.
Immediately, there's a very visible and hard-to-deny change in sound quality.
The 4.4mm output is astounding.
Sounds on all spectrum began to open up and seemed to have a much grander presentation.
Low-ends tighten up with more layers of texture and body, midrange became sweeter and lusher, treble extends further and became more sparkly and airy. The soundstage opens up a good margin and gave it a very 3D presentation. The positioning is also incredibly precise, even through my entry-level Supra-CIEM which was naturally V-shaped.
Detail retrieval is also very impressive without it being dry, cold or overly analytic. There's too much life in this sound signature to even call it cold or dark, musicality is quite a strong emphasis on this player thanks to that warmth it carries. Compared to SP1000 on balanced output, the SP1000 has a more neutral presentation but with similar amounts of detail reproduction.
From here on, whether SP1000 or WM1Z will be pretty much up to your preference as both of them are equally astounding in their own rights.
Just a matter of whether you want a more neutral or slightly warm sound.
But to me -- if I managed to get myself a 4.4mm plug adapter, I will very likely lean to Sony players that have them since the sound improvement here is very hard to ignore, and I certainly find myself craving for more in future players that do have the same 4.4mm balanced output.
I should also mention that both 3.5 and 4.4mm output are pretty much free of background noise and hiss, as I can't hear any audible noise even without music on volume set to very high levels.
Temporary End Words
Well, I think I've made it clear from the opening title of this blog entry.
If you want to get the most out of this DAP for its sound quality, just be sure you at least get yourself a proper 4.4mm plug adapter.
Otherwise, you're better off with a cheaper Sony NW-A25 WALKMAN (Priced at MYR 799) if you have no interest to use the balanced output at all.